Keeping audience attention is more important and sometimes more difficult than grabbing audience attention. People come to a conference expecting to see and hear interesting things, and when they do not get the value they expect, the overall interest and participation falls drastically.
Here are 5 essential methods which will help you stay connected with your audience during a conference.

Audience engagement is an important part of meetings and presentations during a conference, but attention spans have become disturbingly short.
Moreover, if you fail to connect with your audience, you may lose business opportunities.
A one-way presentation is one of the worst methods of transferring information from person to person. It requires discipline and effort to simply sit and listen to someone speak for any length of time.
These 5 essential methods will help you stay connected with your audience during a conference
1. Get them involved and ask for their questions
You do not have to finish your presentation or talk to be able to answer some questions in a short 5 minute Q&A before switching to the next topic or section of your presentation. Asking for questions at the end is a good method as well, but to ensure everyone is involved and no questions are just forgotten by the end, you can do short Q&A's on the go.
Moreover, technology allows for simultaneous question collection during and throughout your presentation, so you can always pick a couple of top questions at any given time and answer them. This will also give you sometime to breath before your next section.
To make it easier, have a "Questions" slide that will prompt your audience that it is time for a dialogue. And a clear instructional note about how they can send-in their questions through-out your presentation. With Swift, your audience can text-in their response to a regular number and you can then moderate the questions and answer them through-out your presentation.
2. Create a conversation with everyone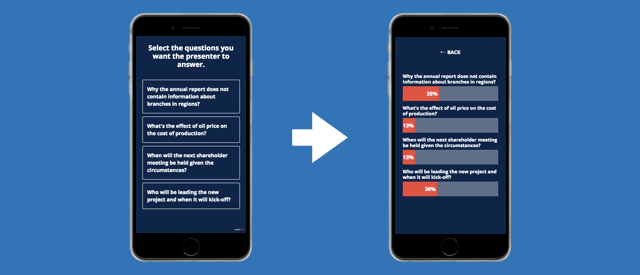 Another way to approach answering questions during a talk is to prepare a short list of questions in advance and ask attendees to rate them. Use interactive online tools such as 
ExciteM's Swift Polling
 to make it fast and easy for your audience. People can vote with a text message or via a link you show them. After the voting is over, pick top questions and answer them.
This approach will ensure you answer the most relevant questions for the most of your audience.
3. Give your audience some control
This is one of the classic approaches, which is often overlooked. Giving some limited control over the conference to your delegates will not harm the event itself, but will only give attendees the feeling that their opinion is accounted for.
This activity can easily be organized with an interactive text to vote tool such as ExciteM's Swift Polling and it can be prepared in advance. Adding a text polling feature will allow you to engage most of your audience and it won't take much time as the results will show instantaneously as people are participating.
4. Create curiosity: Show them what other people in the room think
When doing a Q&A session, you may know people who also have expertise in the same area being discussed. It is important to introduce alternative opinions to make sure all aspects of a subject are covered. You can easily do so by asking other experts in the field. The presentation stage is not a throne and there is no problem sharing it with someone whose opinion and knowledge may bring more value to your answer.
5. Use different approaches and keep it short
Researchers have agreed that very few meetings achieve anything of value after two hours, and an hour and a half is typically more than enough time to allocate for most purposes.
Try to keep your presentations short. A good approach is to time box them in advance, and work backwards based on the time you have to determine what to include.
For more tips on how to make a presentation concise and informative, read our blog post – 5 powerpoint tips that will make your presentation memorable.