Swift polling by ExciteM just redesigned the poll presentation page. Now you can display your web and text poll results from a customized page with more themes, features and design options.
Alongside the bar and pie charts, light and dark themes, and the ability to start and stop polls, there are more beautiful features to explore. Let's have a quick overview of the new polling presentation page and see how you can customize the visualization of your web and text poll results.
Log in to your Swift account to try everything yourself.
[inbound_button font_size="20″ color="#00d034″ text_color="#ffffff" icon="check-circle" url="https://poll.excitem.com/s/api/v1/registration/signup" width="" target="_blank"]SIGN UP[/inbound_button]
How to present live poll results
After signing up, create a new poll by asking your question and setting the answers. Launch the poll and click "Present" to open the presentation page. Whether your audience text to vote or online, you can see the results update in real time.
This is how the new polling presentation page looks

New features
Show voting instructions
Once you open the presentation page, your participants will see how they can text to vote and how to access the poll widget to vote online.
Upload your logo
Yes! At the request of our users, we now support the ability to add company logos to the poll presentation page. Now you can have a branded presentation and make your event more memorable by displaying your logo.
Enjoy more chart types and color themes
Previously, you could choose between bar and pie charts. Now we have also added the column chart option. You can also choose between the single color and multicolor chart options. Just go to the poll setting at the lower left corner of the poll presentation page and choose the option you like most.
To hide the results until all your participants have voted, you can choose the instructions mode which will only display the poll options.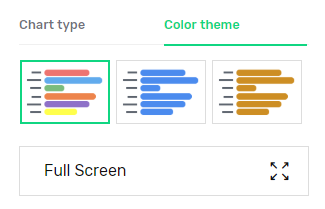 Create and edit polls right from the presentation page
You can now access the poll creation section from the presentation page to create and edit your polls on the go. You can also start, stop and reset the polls without switching between tabs.
Inspired by our new features? It's time to see them in action and make your next event truly engaging with real-time web and text polls, online surveys and interactive Q&As.
[inbound_button font_size="20″ color="#00d034″ text_color="#ffffff" icon="" url="https://poll.excitem.com/s/api/v1/registration/signup" width="" target="_blank"]START NOW[/inbound_button]