It is very hard to make every person in the room be attentive and engage in your presentation. One of the proven methods of interactive presentations is asking them questions. However, asking questions verbally very often leads to a chaotic situation, as it is going to be:
Time Consuming, because it will take very long to collect all the answers from every person.

Difficult, because many people will become shy and won't answer in front of the audience.

Messy, because lots of people will not hear the question and will ask you to repeat it.
Despite these disadvantages, asking questions is a very good audience-engaging tool. In order to solve these issues, audience response systems were created. Besides asking questions to the audience, those systems collected feedback. It is very interesting to have real-time data on what your audience feels or thinks about the subject that you are covering. In addition, those systems give the opportunity to the speakers to adjust their speech to the opinion of the audience.
Swift Polling is an example of a powerful tool that can help presenters add poll questions directly into PowerPoint slides and have the audience vote and engage during the presentation. This tool is supported by PowerPoint for iPad, PowerPoint 2013 SP1+, PowerPoint 2016 for Mac and PowerPoint Online. Adding Swift to the PowerPoint presentation is very easy and fast, it just requires following these three steps.
Step 1 toward Interactive Presentations
Download the free PowerPoint add-on here. You simply click the Get it now button.
Step 2
Go to Swift Polling, log in to your account, create the poll you want to add to your presentation and launch it.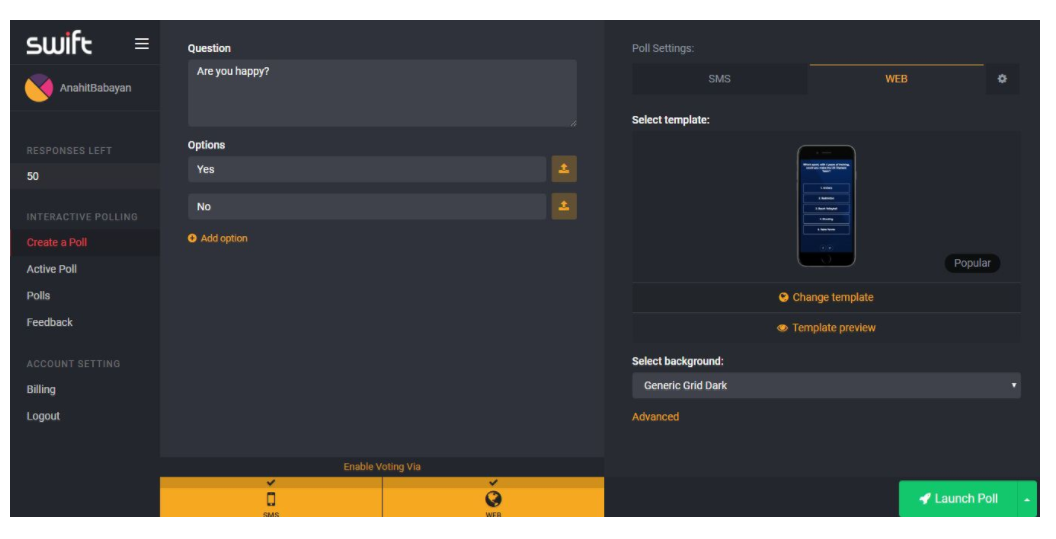 Step 3
Add the Swift Polling add-on to your slide and you will be able to log into your account directly from the slide.
Step 4
Select which poll results you want to display in real time, choose among visualization types (charts and color theme) and click on the "add to slide" button to show the results to your audience.

The advantages of having Swift in your PowerPoint presentation are:
Creating polls is very easy and fast.

The question with the options will be displayed on the slide, as well as on the poll widget.

The voting is anonymous so nobody in the audience will become shy to answer even the most sensitive questions.

You and the audience will get real-time results

You and the audience will have a better connection, in a sense that they will be more engaged in your presentation — and that's what you want, right? Audience engagement!

It also lets the audience submit their feedback and questions (Q&A), therefore you will be able to collect insight on the topic you are covering.

Additionally, you will be able to collect responses from everyone in the audience as there are plans that provide up to 3,000 votes per poll.
Swift Polling makes your presentation more efficient in a matter of minutes. This tool is very fast and very easy to use, meeting all your needs and guaranteeing the freedom of expression of your audience. Thus, it helps create mutual trust, engagement and communication, which are the primary goals of any presentation.