PowerPoint has long been a primary tool to use for presentations during various events and conferences.
We have shortlisted a set of approaches to adopt when creating a PowerPoint presentation, which will make your slides professional and impressive. Have you slides work for you with these tips.
To host a stunning presentation with your PowerPoint slides, one needs to demonstrate design skills, technical literacy and a sense of personal style.
Even if the presentation is well rehearsed, a bad visual experience can ruin it for the audience. The best PowerPoint presentations all have some things in common.
Independently on the topic, the skills to create a beautiful and easily understandable presentation fall into three main categories:
PowerPoint's design tools
Your attention to presentation methods and processes
Your devotion to consistent style.
To demonstrate good command of all three, you can adopt the following tips we have compiled to make sure your audience is impressed.
1. Keep it simple
Simplicity is key when it comes to showing important information to a large audience. You want to ensure the information is concise and clear to everyone looking
Your slides must be full of "white space". Don't feel compelled to fill empty areas of your slide with anything that is not immediately relevant to the subject or overall theme being discussed. Ask yourself if what is on your slide contributes to better understanding. Whenever the answer is "no", remove the elements.
2. Limit text and bullet points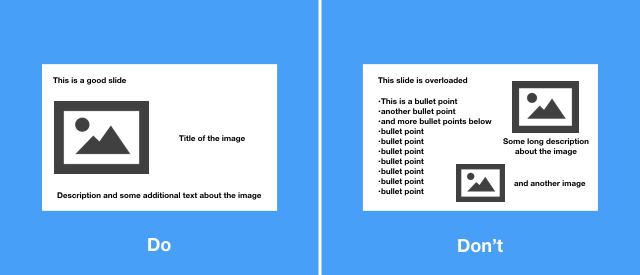 Bullet points are good when you need to break the information into important factors or parts, but showing too many bullets on a slide alongside with text significantly lowers the readability. Moreover, putting too much information on a slide makes it possible that hardly anything will be communicated to the audience in the end.
The slides are supposed to help the presenter, not copy the text he is going to say. Put just enough text and bullet points to complement what you are going to say, not to replace it.
3. Limit animation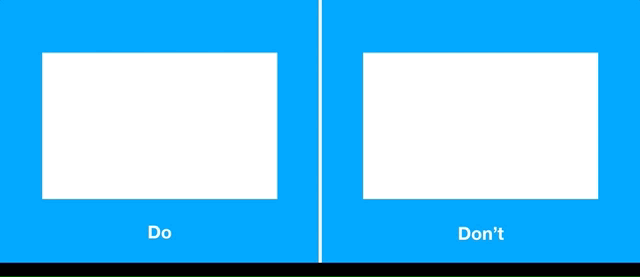 We all want to make beautiful slides. But adding complex and slow animations and transitions distracts the viewers. Switching to a new slide should not take more than a fraction of a second. Also, make sure your transitions and animations are consistent across all slides, otherwise you risk taking the attention and focus away from the main content.
4. Empower your audience to participate and create a conversation within PowerPoint 
There are a few tools that you can use to facilitate real-time polling, feedback, voting, Q&A for your audience. Your audience can all participate either from their phones, tablets or any internet connected device. Some tools like ExciteM's Swift Polling offer real-time SMS polling as well as real-time web voting and social media voting (Facebook Hashtags & Twitter) from one application and allow you to visualize the results that are coming in from your audience in real-time and within your PowerPoint presentation or any internet browser.
Downloading and installing Swift Polling add-in enables you to display polls' results on your PPT slides. You should add it on a PPT slide and enter your Swift account. Then you will choose the poll you want to show to your audience, select among visualization types and click on the button "add to slide". Your audience will have an opportunity to see the results updated in real time.
Your ultimate goal is to make your audience feel that this is a two way conversation and that their feedback is truly valued.

[inbound_button font_size="20″ color="#c8232b" text_color="#ffffff" icon="" url="https://poll.excitem.com/s/api/v1/registration/signup" width="" target="_blank"]Create your first poll[/inbound_button]
5. Be consistent: Have a visual theme, but try to avoid PowerPoint integrated themes
Again, if it is a part of PowerPoint, then it has been seen many times before. Moreover, creating your own theme is very easy. Just design all the elements on one page (header, sample slide title, logo etc) and then just copy everything to other slides. PowerPoint will easily extend your theme to all the slides without altering the location and sizing.
It is really easy to keep your PowerPoint authentic, beautiful and simple. With the use of these tips you can always create professional presentations. Why not do so?